Alexander Technique Lessons
Private lessons are one hour and take place at my studio in Andersonville on the north side of Chicago. At your first lesson, we'll discuss your unique situation and what you can expect from a series of Alexander lessons.
I'll introduce you to how lessons work, how we use hands-on feedback and guided movement to raise your awareness of your posture and movement habits and how to change them for the better.
For musicians, a first lesson is a good time to bring your instrument—I have a piano in my studio if you're a pianist.
Use the calendar app here to sign up for a first lesson.
Lesson Packages
I offer lessons in packages of 4, 8, and 12 lessons. If you are interested in signing up for a package of lessons, we can discuss particulars at your first lesson.
The habits that we are changing through Alexander lessons are in the background of all of our activities from the moment we wake to the moment we go to sleep—and sometimes even when we stir in the night. For this reason, consistent study is necessary in order to experience lasting change. For new students, it is recommended that you study as intensively as possible in the beginning in order to get the most out of your Alexander lessons. New students typically take 2-3 lessons per week in the beginning. As your study continues, you can adjust to weekly or bi-weekly lessons.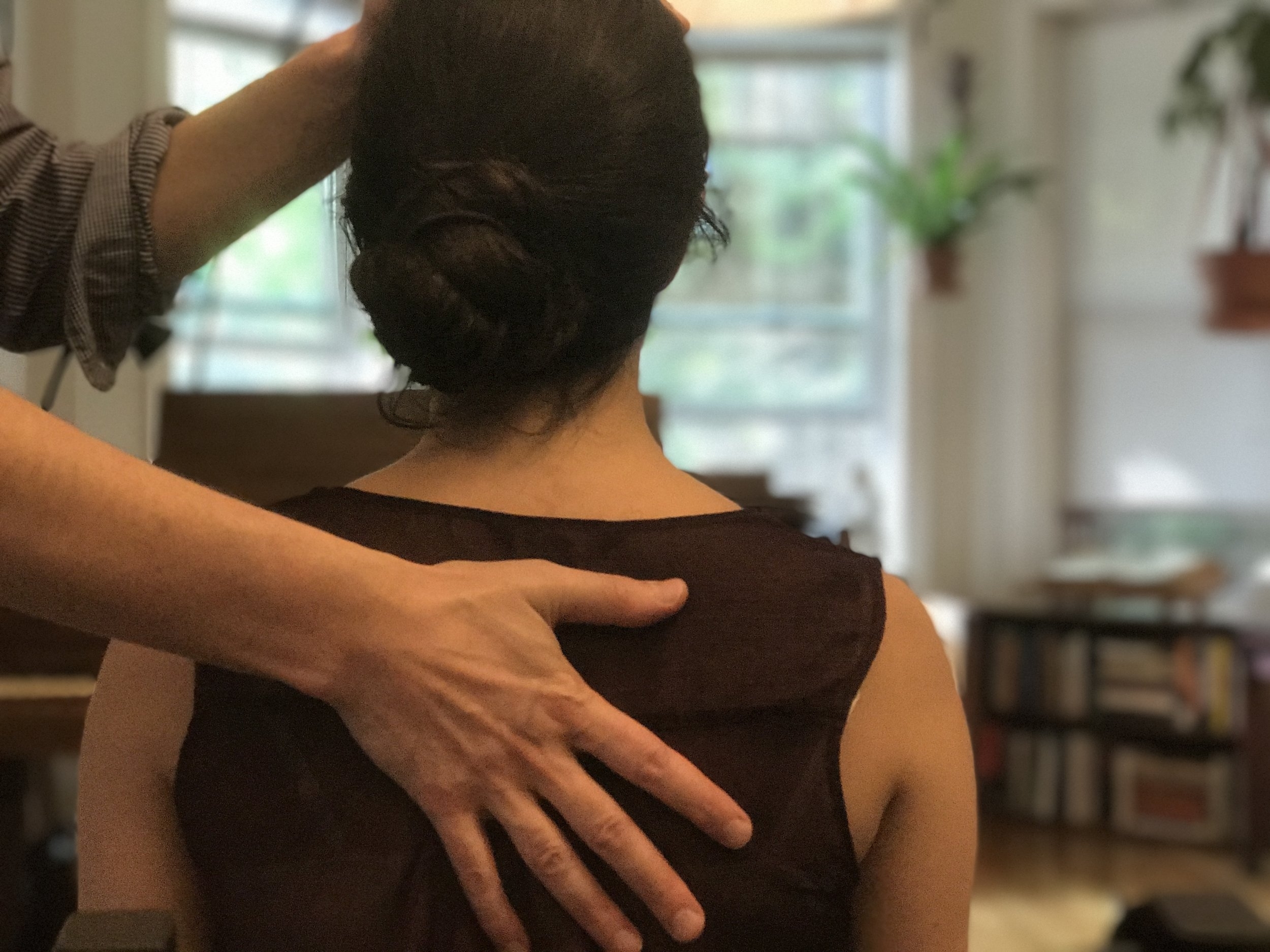 Chin Rest Fittings for Violinists and Violists
Violinists and violists often twist their bodies into unsustainable positions just in the act of holding their instrument. Changing chin rests and/or shoulder rests can be a crucial step in finding greater comfort and ease at the instrument. Even more importantly, players need to develop strategies for becoming aware of and beginning to change the habits that have grown around poorly fitting chin rests and shoulder rests.
I offer chin rest fittings as part of Alexander Technique lessons for violinists and violists. During lessons, players are given the opportunity to try out a variety of chin rest designs, including Randy Olson's Wave chin rest, the Kreddle, Gary Frisch and Lynne Denig's chin rest fitting kit, and the SAS chin rest. Chin rests are available on loan to those students taking regular lessons.
If you are a violinist or violist interested in changing your set up, schedule a first Alexander Technique lesson (above), and we will look at your set up and how it might need to change over a course of lessons.
Frequently Asked Questions
How many lessons does it take to learn the Alexander Technique?
Like any skill, the more you study the more you learn! When first studying the Alexander Technique, you can learn the basics of the Technique in 20 to 30 lessons. That said, many of my students have continued to study with me for years.
How much do lessons cost?
Check out my pricing and policies page here.
Do I have to study the Alexander Technique intensively?
I strongly recommend that you begin your Alexander Technique lessons by studying lessons intensively—either daily or every other day for one to two weeks. After your first period of intensive study, you can continue at the more regular frequency of once or twice a week.
What if I can't afford to pay for intensives in advance?
I prefer that intensives be paid for in advance, but I do offer payment plans for students if affordability is an issue. Payment for intensives can be spread out over the course of several weeks.
Are Alexander Technique lessons just for musicians?
No, anyone can study and benefit from lessons in the Alexander Technique.